Okay, so it's been a little quiet on the blog lately. I don't know what possessed me to start a year-long language course and a blog at the same time! We're also battling bugs - just as baby came off her 4th dose of antibiotics this year, I lifted her out of the cot last night and she threw up all over me, the cot and the floor. Here's to summer and warmer weather!!
It's funny how the little things can make you feel like such a failure as a parent.
Last week as I put my 4-year-old Kayla to bed, she snuggled into me and then pointed to the photo canvas on the far wall of her room."Mum, I really miss my puppy!" she said - and then, so typical for our little drama queen, her face crumpled and she sobbed as if heartbroken.
Let me explain. When she was somewhere around 2, I got hooked on a pre-loved toy store in town. I couldn't resist picking up toys that were in near-perfect condition, often for just a euro or two. The puppy was one of them - a gorgeously soft cream puppy with floppy brown ears.
At first sight Kayla clutched him tight and adopted him as her one-and-only sleep toy. But Kayla being Kayla, that didn't last. As she moved to a big bed I'd often find puppy thrown in a corner of her room, abandoned for days if not weeks, and she seldom slept with any toy in the bed.
Around that time I realised that too many nearly-perfect toys were too much of a good thing. So one day while the kids were out with dad I swept through the house, bundled up all the toys they never played with, and handed them back to the charity shop.
The kids barely noticed and we could see the floor - a win-win situation, right?
Um - no.
Fast forward to a few years later when I decided we needed some life on our walls. Under pressure to get a last-minute deal at photobox.com I zipped through our photo files, chose a few of my favorites and ordered some canvases for the girls' rooms.
The one I chose for Kayla was
soooo
cute - a photo taken at our local airport on the way out to my workmate's wedding in Greece. Kayla stands there forlornly in the queue, surrounded by a forest of legs, holding her beloved puppy by the neck.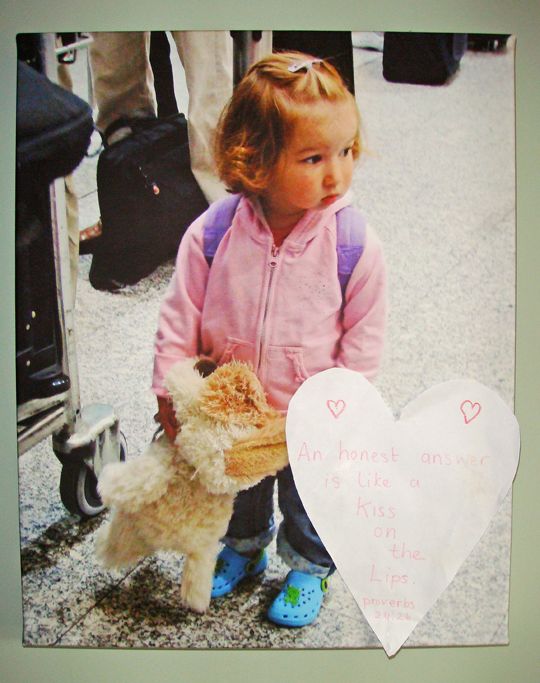 I thought she'd like the photo, but the moment the canvas went up on the wall she burst into floods of tears. "Mum, that's my puppy? Where's my puppy? I lost him and I miss him SO much!"
Well, no you didn't lose him
, I thought,
but I can't tell you who did! And you really weren't acting like you loved him at all back then!
So I said, "I'm so sorry bubs, I think puppy IS lost and I don't know where he is." And gave her the biggest hug ever.
But she wouldn't be consoled and we've had the same conversation several times since.
I did try taking the canvas down but she seemed happier for me to leave it there.
Then at church a few weeks ago, a friend came up to us waving a handful of paper hearts. "We had these up on the wall for Valentine's day - want one?" she asked my kids.
Each heart had a simple, hand-written quote about love. When we got home, Kayla begged me to read hers and later that day I found it stuck to the wall beside her pillow.
But last week, the heart moved up to the canvas, right beside the beloved puppy.
And folks, I kid you not, this is what the heart says:
"An honest answer is like a kiss on the lips."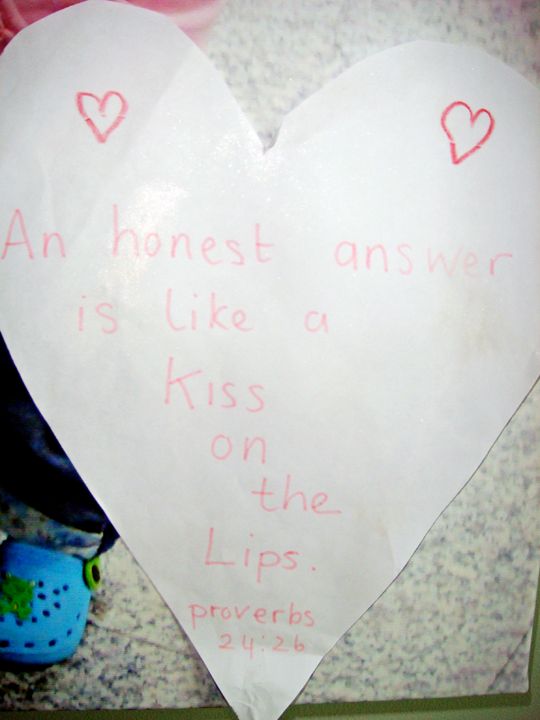 Somehow bedtime isn't so much fun anymore. I'm debating taking down that canvas and replacing it with something else - more recent, more fun, less ... guilt-provoking.
I'll tell her the real truth about the puppy someday, but not now. Maybe when she's a bit older. What would YOU do??
The guilt has a silver lining though. The more I mess up, the more I'm able to forgive my parents' mistakes. And I'm determined, these days, never to buy anything I won't let the kids keep. In fact, never to buy anything unless we really need it. More on that in my next post!