(my dad, part 2: bomb blast)
I left for university shortly after the restraining order was placed on my dad. I chose a double major in psychology and education and, after a few hiccups in actually getting there (like my mum's overloaded car burning out on the highway!), I loved uni. I loved the mental challenge, and loved being able to open my mouth and give an opinion without being shot down in flames!
A few things stand out from those years ...
* reading a word-for-word description of my dad's behavior in a textbook one day and realizing I didn't want to spend the rest of my life reliving the moment. Right then I decided a career in clinical psych wasn't for me - but I still went on to finish my degree.
* looking up from a desk in the library one day to find a classmate staring at me with lovesick eyes and feeling my heart lurch in despair. He'd become a friend of sorts, but I hadn't seen what was coming. When I told him "sorry, I can't go there," he told me I'd been calling him the wrong name all year. Oops!
* passing my degree with honors and being offered a full scholarship to go back and complete my masters ... but being
so
burned out, I couldn't even open a book for the next six months.
In those days if you were unemployed for six months or more, social welfare would call you up for 'volunteer' duty. And so, because of my education major, I was placed as a resource assistant in the special education unit of a local school.
I got to work at around 8.30 each morning and so did the kids. Pretty soon we had a session going where the kids would ask questions and tell me their stories - about gang fights, watching porn movies with their parents, living
under
their own houses for days at a time ... it was an eye-opener for sure!
I was particularly drawn to one little boy - I'll call him David - who came in with new bruises each morning and always had a story to explain them away. He'd fallen down the stairs, tripped over a ball. He wore the same clothes for weeks in a row and stank of urine.
As the other kids went out to play, David edged closer to me. At first I fought the urge to move away - but his need for love screamed out, so I let him sit close and quiet. Then one morning he limped through the door like an old man, tears streaming down his cheeks. He sat on my knee, reached back and drew my arms around him, hugging his body tight. I held still, fighting back my own tears, wishing him love and courage. It probably wasn't 100% p.c. even in those days, but there's no way I could have pushed him away.
Weeks later the family moved with no forwarding address. But I'll never forget the mirror David held up to me, or the stirring deep inside to use my own life, somehow, to help others through the pain of abuse.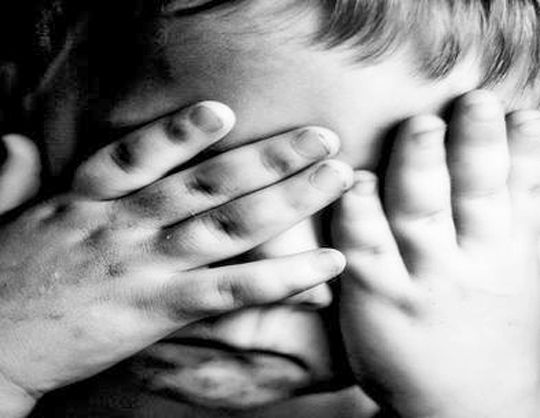 the damage goes deep - image courtesy of IrishCentral.com
***
After that I left the school and volunteered for a local radio station. But I was still emotionally broken. One night I decided to have it out with God, telling him, "I'm not going to sleep until I know why I'm still so miserable."And I let him have it - pouring out my grief and rage over the years of abuse.
At the end of it came a peace and stillness unlike anything I'd felt before. Then I heard God say, "That's all I wanted - for you to be honest with me." And for the first time in my life I realised I was safe with God - I could be myself and he'd take me just the way I was.
Three years later I moved to Switzerland and spent a year ghost-writing a book for the manager of a retreat center. From there I moved to Costa Rica, South America; and finally to Thailand where I worked with refugees. But my baggage came with me, and oh did I have baggage!
It was in Thailand that I met my now-husband Charles, who spent 2 or 3 months of every year volunteering there. Long story - I'll tell it one day! And that's how I ended up on the opposite side of the world, 100% married, despite telling God that I'd never marry anyone, even if he found me the right guy.
We struggled in the early years ... I'm sure we're not alone in that. Two years into our marriage I was really depressed, sobbing my heart out on the floor of the kitchen each night - until I woke up one morning in early 2003 seeing only shadows. That's also a story for another time - but a reminder that, in the words of Glennon Doyle Melton, "
a broken heart won't kill you, but running will!
"
I was diagnosed with a rare condition that made the retinas in my eye bubble and burst, like water on wallpaper. I spent the next three months semi-blind, with one specialist telling me I might never recover. I couldn't read, could barely peel a potato, and was afraid to walk because I'd lost all sense of space and dimension. As I sat immobilised on the sofa, I felt God clearly say to me, "Well, you needed to deal with some stuff and I just couldn't get your attention any other way!"
So I listened, for a while. But then my sight came back - bar some damage in my right eye - and I kept right on running.
Then one day in 2006, out of the blue, I had a call from my sister in New Zealand. She had just found out that my dad was dying of cancer. I immediately knew I had to go home. Chances were he wouldn't even see me, but I had to try.
I prayed for just one thing on the flight over - that I could see my dad, say goodbye and make peace with him. I had no intention of bringing up the past. But as it turned out, God had other ideas!
(to be continued)